An income opportunity to celebrate

Discover a powerful new approach to predictable lifetime income
As uncertainty reigns, retirement savers are wondering if their assets are positioned to last a lifetime, or two. Show them it's possible with the new Synergy Choice™ Income fixed index annuity (FIA) from Aspida!
The newest addition to the popular Synergy Choice product line is well positioned to be a leader in income in many deferral years and popular age bands thanks to the following features:
32% Benefit Base Bonus
12.0% Annual Rollup Rate1
Top S&P 500 annual PtP rates and 3.00% fixed account option
Competitive payout factors up to 8.65% (single life age 90+)
New alternative indices with cutting-edge new volatility technology
Enhanced Nursing Home Multiplier
Approved in 47 states
(Excellent) A.M. Best rating² and backed by a global asset manager with $320+ billion in AUM
Leading technology platform with same-day e-app processing
Simply fill out the form to access our Sales Starter Kit with complete details on rates, states and sales materials to help you revel in a strong close of 2023!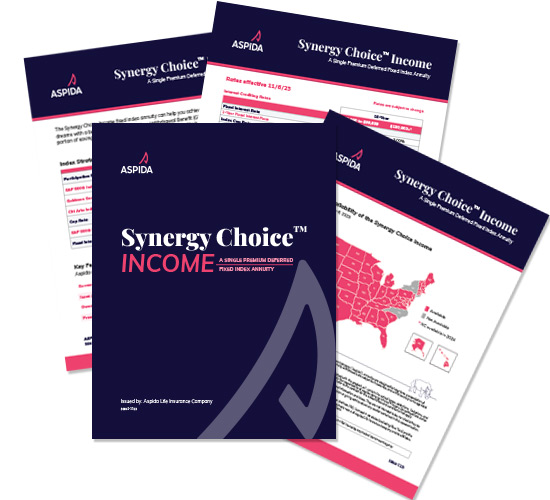 FOR FINANCIAL PROFESSIONAL USE ONLY. NOT FOR PUBLIC DISTRIBUTION.
¹ Rate is only applicable for contract years 1-10, after which the rate drops to 0.01%. Issued by Aspida Life Insurance Company.
² A.M. Best rating as of April 2022 (A-, 4th highest of 16)
Guarantees are backed by the claims-paying ability of Aspida Life Insurance Company ("Aspida"). Annuities are designed for long-term accumulation of money; surrender and withdrawal fees may apply on early withdrawals. Annuity withdrawals are subject to income tax, and withdrawals prior to age 59½ may also be subject to an IRS penalty.
This piece provides a brief summary of product features. The contract associated with the product will contain the actual terms, definitions, limitations, and exclusions that apply. Product features and availability vary by state and are solely the responsibility of Aspida. Synergy ChoiceTM Income 10 contract form series ICC22C-FIA1010 and C-FIA 1010. Some exclusions and exceptions apply. Please refer to the contract for the actual terms and conditions that apply.
The statements and comments offered in this communication are provided as general information and ideas. They are not intended to be, nor should they be relied on as, investment, legal, tax advice, or recommendations. Before making a decision or giving advice about any matter contained in this communication, agents or individuals should consult their own attorney, tax, or investment advisor.
Products and services are underwritten and/or provided by Aspida (Administrative Office: Durham, NC), licensed in 49 states (excluding New York) and the District of Columbia. Products and services may not be available in all states.
Not FDIC/NCUA Insured • May Lose Value • Not Bank/CU Guaranteed • Not a Deposit • Not Insured by Any Federal Government Agency