Delivering equitable success from carrier to consumer
The world of financial preparation and retirement planning is changing. Consumers are facing significant challenges and considerable uncertainty. To combat these issues, insurance carriers, marketing organizations and advisors must go beyond traditional approaches to solve clients' problems and achieve key planning objectives. Industry leaders are turning to Market Synergy Group for this outside-of-the-box thinking and product innovation.
» Contact an IMO in our network to leverage our versatile product mix.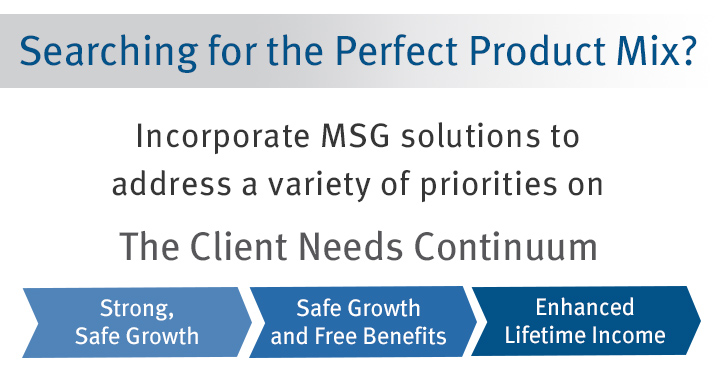 By pairing competitive products with lasting partnerships, Market Synergy Group is able to deliver the support and service that makes heightened levels of success possible. Our knowledgeable team of industry veterans understands that taking a synergistic approach to how the pieces of strategic planning come together facilitates an environment in which everyone involved in the planning process wins.
Driving Results Through 3 Core Initiatives
Product Development
Consumers are looking for ways to grow and protect their wealth, and for help making smart decisions about their financial futures. We work with some of the most well-respected insurance carriers in the business to develop innovative products that professionals can use to address real consumer needs.
Market Research
As the retirement planning environment evolves, so, too, must the solutions available to consumers. In order to give our distributors a competitive advantage, we continuously review current data and research to conduct market analyses, design and price products, and support meaningful sales initiatives.
Sales Support
Financial advisors and insurance agents are constantly in search of ways to optimize the sales process. We empower an exclusive network of IMO member-owners and their producers with resources and tools, focused training, and personalized assistance for appropriate product positioning and utilization.
Exclusive Partner Network