AIG Power Select Flex Heat Map
In April, AIG launched new enhancements to the guaranteed living benefit (GLB) riders in The Power Series of Index Annuities®. In addition to giving clients more access to their money and increased flexibility to address life changes, these enhancements position the Power Select Plus fixed index annuity as a leader in guaranteed* income payouts.
Proof in Numbers
To better understand the big picture of performance, we examined 416 client scenarios. By utilizing heat mapping, we expanded our analysis to include outcomes based on issue ages 55-80 deferring income from 0 to 15 years. Download your copy to find out how Power Select Plus stacks up against the other top guaranteed income solutions in the industry!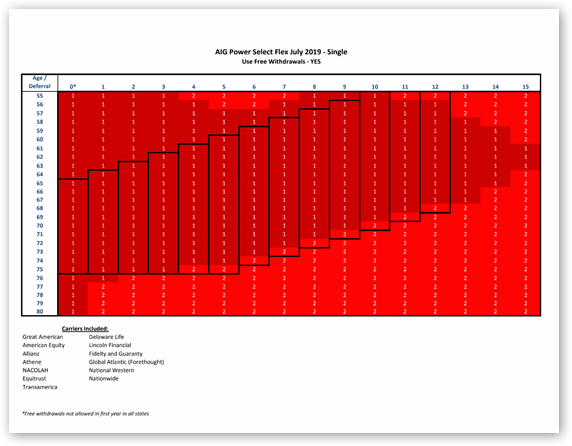 Download the Heat Map
*All guarantees are backed by the claims-paying ability of the issuing insurance company, not AIG. The Power Select Index Annuities are issued by American General Life Insurance Company.
Index annuities are issued by American General Life Insurance Company (AGL), 2727-A Allen Parkway, Houston, Texas 77019. AGL is a member of the American International Group, Inc. (AIG) family of financial services companies. AIG is a leading international insurance organization serving customers in more than 80 countries and jurisdictions. Its companies are among the nation's top providers of property and casualty insurance, life insurance and retirement products. The underwriting risks, financial and contractual obligations and support functions associated with the annuities issued by AGL are its responsibility. AGL does not solicit business in the state of New York. Annuities and riders may vary by state and are not available in all states.
©2019 American International Group, Inc. All rights reserved.
For agent use only. Not to be used with the public.